Schedule Orientation While Applying¶
Many organizations have volunteer orientations on a regular basis as part of their process for on boarding new applicants. If your organization is one of these, you may want to collect a schedule for the orientation as the applicants apply.
Please note that the ability to collect schedule information on application forms isn't limited to orientation sessions. You can collect schedule information on application forms for any types of jobs applicants could fill. For example, if your organization is a music festival and volunteers do not need any on boarding to serve, you can let applicants select shifts for the ticket booth, stage set up, concession worker, and other jobs right on the application form. The steps outlined in this help topic will be the same no matter what type of schedule the applicant is selecting.
Here's an example of how the schedule selection options look for applicants.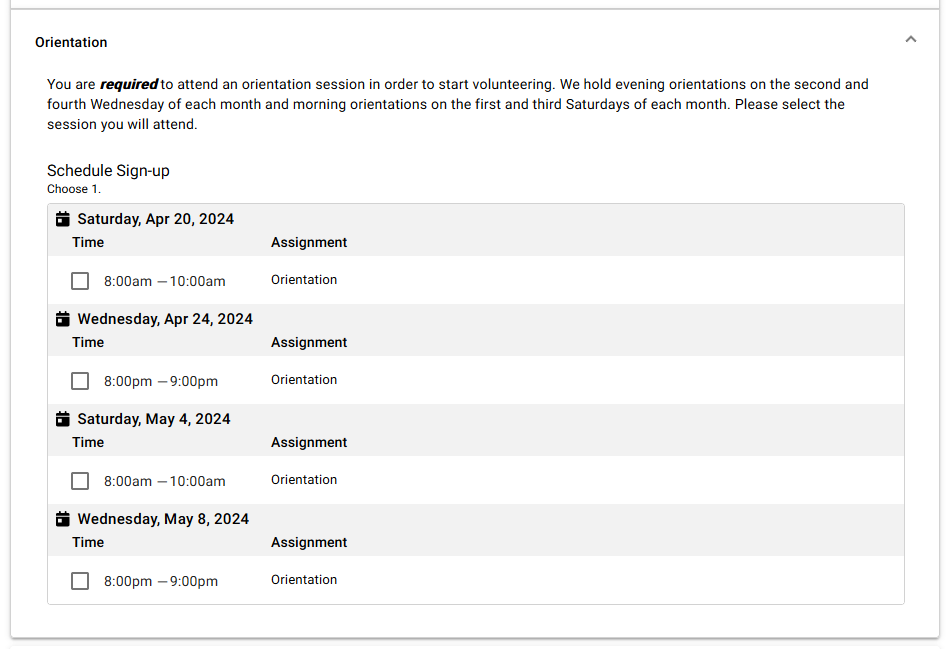 Here's what you'll need to do to set this up for your account.
1. Create an Assignment for the Orientation¶
If you have not already created an assignment record for your orientation, you will need to do this first. You can find directions and a video on how to make an assignment record in Add an Assignment.
2. Add an Opening to Show When Orientations Will Be Held¶
Once you have an assignment record for the orientation, add an opening to it to make a schedule of when orientation sessions will be held. You can set up the opening to repeat in a pattern such as the second Thursday of each month or every Saturday. You can also add a limit to the opening for the maximum number of people who can attend. For example, if your classroom will only hold 20 people you can create 20 opening slots. You can learn how in Add Schedule Openings
3. Create a Form Section for the Orientation¶
If you want to have the orientation information in its own section of the application form, you will need to create this section. The form section can be customized with directions about what you want the applicant to do. You can learn how to create and customize a form section in the Add & Manage Form Sections portion of Customize Application Form Content.
4. Add the Opening Dates and Times¶
The final step is to link the openings for the orientation assignment with a form section. The Schedule Fields section of Customize Application Form Content explains how to add schedule openings to your application forms.
Some things to keep in mind when you setup the form with the orientation's schedule are:
Choosing a dynamic option for the dates openings show (such as the next 30 days or the next 60 days) will mean less work for you than choosing a specific date range that you will need to update manually.
Restricting the applicant to one choice of date and time will be less work than allowing them to choose multiple dates and times.
Receiving the selections as actual schedule entries means the system will update the number of opening slots available as soon as you receive the application into your database. Receiving the selections as preferences means you will need to approve the selections before the number of available opening slots will update.
Remind Applicants of Their Upcoming Orientation
The process outlined in this help topic allows you to schedule applicants for an orientation when they apply. Because a number of days may pass between when an application is submitted and the scheduled orientation, it may be useful to set up Volgistics to send an automatic reminder about the upcoming orientation.
Please keep in mind that if you use reminders for other assignments than orientation, you should keep the content of the message generic enough to apply to the applicants as well as the established volunteers.
Related Help¶