Print, View, or Save a Completed Application¶
The online volunteer application forms in Volgistics allow you to collect information from prospective volunteers and have the information they enter on the form automatically transfer to a volunteer record in your account. This is a great way to streamline the application process because you will not need to manually enter the volunteer's information into your account.
You may want to print, view or save a file of the completed application form a volunteer submits. Volgistics automatically creates a PDF copy of an applicant's submitted form and saves it to the Docs tab of their record. This file shows all the applicant's selections on the form and shows that they acknowledged and signed any policies or other statements you included on your form.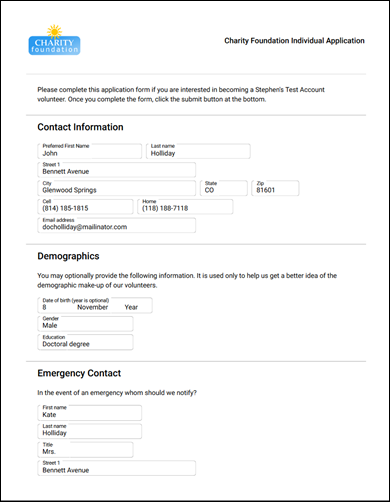 If your application forms are set up to be audited, you will need to receive the applicant's information before proceeding. After the record is in your database, you can locate and open. Once you have found the record, click on the Docs tab, which is the last tab on the right hand side the record.

If you are not able to see the tab, your System Operator rights do not allow access to the tab. You will need to contact your account's Administrator for further assistance if you need to use the Docs tab and it does not show when you view a volunteer's record.
To view, print or save the application form, select the form in the File Name column.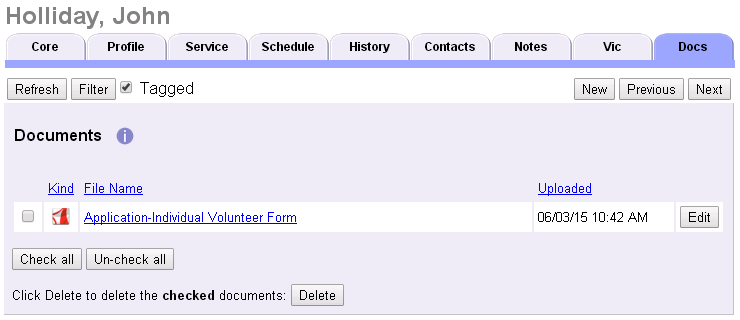 What you see next will depend on the web browser you are using and its settings.
If your web browser is setup to use Adobe Reader to view PDF files, the Adobe Reader program will open and display your form. In this case, an Adobe Reader mini toolbar may appear somewhere on the page. You can use this toolbar to save or print the PDF file, or open the full Adobe Reader toolbar.
If your web browser uses a built-in PDF viewer, your web browser may open another window to display your document. In this case, you will need to use the viewer's tools to save or print the file. If the form tries to load but never opens, you may need to disable the built-in viewer.
If your web browser is setup to download or save PDF files, you will need to go to the location the file was downloaded or saved to. Once you locate the file, you can open it from the saved location in order to print your form.
Adobe Acrobat Reader
Depending how your web browser is setup, printing the application may require the Adobe Acrobat Reader program. Adobe Reader is free from Adobe Systems. If this program is not already installed on your computer, you can download Adobe Reader from the Adobe web site by clicking the Get Adobe Reader link below.

Related Help¶
Related Videos¶
Finding a Volunteer's Application Date